You can easily go from renter to first home buyer in 2018 using a smart well thought out strategy.
Transitioning from renting a property with your friends to being a first home buyer is a big step for any person. But it's a step most people only take when they feel ready.
It's the little things about being a homeowner that leave you feeling all warm and fuzzy inside. Like being able to do a simple thing like hanging a picture without having to ask for permission.
But going from renting a property to actually buying a house is one of the biggest leaps a person will take.
So how do you from renter to first home buyer?
In a recent Domain article, Ashleigh Coombs from QLD spoke about her experience getting into her first home. At only 23 years old Ashleigh would be at the younger end of the scale for first-time buyers, with the average age sitting around 33 years old. However, she now lives in an almost new four-bedroom home she built on the Sunshine Coast in QLD and she is even planning on building a property investment portfolio to reach the next level.
Ashleigh is proof that it is possible to go from renter to first home buyer. She was on a Nurses wage, she didn't have wealthy parents or a partner helping her borrowing capacity and finances and she still did it. How? The old fashion way. By saving and budgeting well.
Working out your budget as a first home buyer
If you want to go from renter to first home buyer you have to decide what's important to you. Create a realistic budget. One that isn't so restrictive that you end up hating life, and stick to it.
When you're trying to save for a deposit for your first home you have to be mindful of where your money is going. Analyse your spending habits and see where you can start to slowly cut back on unnecessary purchases and expenses.
And remember, renting a property whilst trying to save for your own one, doesn't have to work against you. Some lenders will accept rent in lieu of genuine savings. This means they view your ability to pay rent as reflective of your ability to meet your mortgage repayments. Now you'll still need a deposit, but it can come from another source besides savings (like a gifted deposit)
Keep an eye out for good deals when researching your first home
Whether you're looking for a house and land package, a brand new apartment, or even an established property, there are some deals that will be better than others. So keep an eye out for them.
Developers will often offer incentives to get rid of the last few apartments that haven't sold. Likewise with house and land packages. Depending on who you choose to build your home, you may be able to get extra inclusions or upgrades for free.
When it comes to established properties you don't have to offer to pay the advertised price. Especially if the property has been on the market for some time. Do your research and see what other similar properties have been selling for to help you make a fair offer.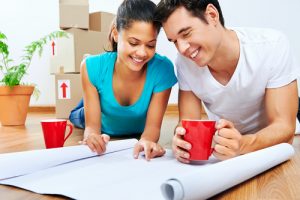 Building New? Find a quality builder for your first home
Find a quality builder or speak to someone who can recommend one. There are literally hundreds of builders and developers out there, and the quality will vary greatly. Don't be in a rush to choose one either. Do your research and take your time. This is likely the biggest investment you will have ever made, so you want to make sure you get it right.  
A word of warning. When building a brand new home it's easy for your budget to blow out. Don't get carried away with all the different extra options and inclusions available to you, as something that was originally an affordable option, can soon turn into a very expensive one.
Going from renter to first home buyer may seem like an unachievable goal for you. But for smart and dedicated first home buyers a little forward planning goes a long way.