How to make an offer on a house in 2018 is crucial if you want to secure the home of dreams
With auction clearance rates at low levels for what is usually the hottest selling time of year being Spring. It makes sense that some people are trying to buy before an auction. Which also suits some sellers to get the deal done.
A great way to make that happen is to put an offer on the house. Even though you know it's going to auction; it's the same as you would when it's a standard private sale.
Making an offer on a property is straightforward. But how to make an offer on a house in 2018 is full of twists and turns
You'd contact the agent and let them know what you're willing to pay for the home. It's also a good idea to make the offer and terms in writing.
How do you make an offer in a way that gives it the best chance of acceptance?
Getting your offer accepted requires more thought and strategy if you want to get it for the best price.
Here are some tips and strategies to present an offer that gets noticed by the agent and the vendor.
Attending the first open for inspection is always a smart idea.
Buyers agent and Co-Creator of the First Home Buyer Buddy, Daniel Baxter says. "If you want to make a substantial offer it's always a smart approach to make the time to attend the first open home.
You'll get a good idea of your potential competition. The first open home is almost always the busiest, and that's why you want to get there and see what's going on".
An alternative if the open home doesn't attract a great crowd and the property has an auction scheduled. The vendor (seller) may be more likely to consider an early offer to try and get a deal done.
"If you find yourself at you first open home, with lots of interest and a real buzz. Buyers hounding the agent for contracts, and making an offer before the auction. You can assume it will be a strong campaign. Vendors may be more reluctant to look at offers unless it's something that blows them away" Baxter says.
Don't be afraid to get in early and make an offer.
Even without many potential buyers at that first open home. Don't think it's a good idea to wait a little while before you submit your offer to the agent. You'd do that in the hope that the vendor/seller becomes desperate and decides to accept a lower price than they want to.
Baxter says. "that strategy often loses the deal not wins it, the reason is it allows time for new buyers to fall in love with the property and start to make some noise".
"If it's an auction campaign, what happens is over 3-4 weeks buyers become interested at different times. Then there is competition, and this makes it much easier for a vendor to sit back and let the buyers fight it out".
Start to apply some pressure to the vendor
Baxter goes on to say "A great way to apply some pressure to the vendor is by going in hard from the start if you like the property and know what it's worth. You then back that up by applying a time-based pressure technique. Doing this will ensure the agent puts pressure on the vendor (their client) and the vendor has to make a decision either way. Once that happens you can get straight into the negotiations if required."
Use time-based negotiation pressure tactics where possible.
Those time-based offer and negotiation tips are ones that we teach our clients. This is part of the First Home Buyer Buddy system, allowing them to negotiate like a seasoned pro' Baxter says.
"When I want to buy a property, I want an answer asap from the owner. That's generally within 24-48 hours at the latest. It is my sole aim to put pressure on the vendor to have to make a decision it's either a yes/no or let's negotiate. That also means me laying my cards out on the table to get a deal done," Baxter says.
"The longer a negotiation takes, the more time you give the agent to get other buyers involved. All you are doing is creating more time for the owner to reconsider their position. Which is not what you want at this important stage."
Outside of offering a very appealing price, An unconditional offer can be the key to success.
Selling a home can be tough drawn out process, so owners often look for the easiest and best buyer when it comes to negotiating and getting a deal done.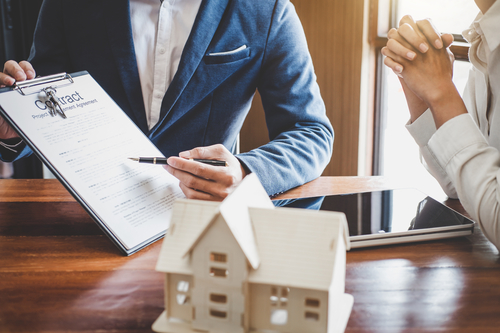 That can mean your offer has a lot of conditions attached to it. Like subject to building, pest, finance etc. Owners become concerned as you have many ways to back out of the deal. But, "I'd never recommend someone overlooking those clauses or conditions. If they hadn't checked out the property and done their due-diligence". Said, Baxter.
"I once had a client … and we'd offered $690k for this apartment which was in his dream spot, but he was subject to finance as many people are. We were very confident that the finance would meet approval and nothing would get in the way. The agent called and advised me that somebody else had matched our offer. Long story short, the vendor went with that offer; my client was beside themselves with disappointment," Baxter says.
"I've seen many vendors take offers that are lower than others they have as they are unconditional and appealing. Rather than take an offer that is a bit higher but with conditions meaning it's not rock solid."
Some solid advice is to offer your best price if you want the home and don't want to play games.
Most buyers who get to the point of making an offer on the property are doing this because they want the property. They want to beat out the competition, or sometimes it's because they're hoping to try and snag a bargain.
But Baxter suggests that offering low prices rarely works in areas where the markets have quite a strong buyer demand.
"While it's understandable that first home buyers want to get the property for the lowest price. It's not a great idea to try and play games with the real estate agent selling it. Agents are humans too; they don't like having their time wasted. Often the people that show themselves to be serious and prepared buyers are the ones that get treated at the most genuine."
"If you're looking to buy your first home, you don't want to pay too much, but a fair price is always a good price. A better way to look at it is if you like this home and you think it will be perfect for you. Make the first move and do what you have to make that property yours. Be sure not to over-extend yourself past your pre-approved budget.
To learn how to make smart and appealing offers to real estate agents sure to visit the First Home Buyer Buddy.