How much deposit do I need to buy my first home? It's the age-old question for first home buyers and 2018 is no different…
Saving up enough money for a home deposit is the great Australian dream for many first home buyers.
That often comes after years of putting away dollar after dollar to save up that deposit. That's a huge achievement. Particularly with property prices rising in almost every Australian city.
But if you were to buy today, how much deposit do you need to get started? And will you need a full 20% deposit to get going? or will some lenders/banks allow you to get started with something much smaller?
So if you're asking yourself this question… How much deposit do I need to buy my first home?
Here's what you should know about deposits.
So how much deposit do you need before you think about approaching a bank?
Now contrary to what you've heard, you don't always need to save a 20% deposit before the banks will talk with you.
John Tindall, Finance specialist, from Accumulus Home Loans had this to say. He states most lenders and banks are happy to offer loans to buyers with a lot less than a 20% deposit. – Others will even go as low as 5% in some cases.
Let's look at an example, On a $500,000 loan size, a 5% deposit would be only $25,000, but it doesn't stop there. You then have to add stamp duty. Plus you'll also have to pay lenders mortgage insurance (LMI). That isn't fun but required for many first home buyers. This is what lenders use to reduce their risk of lending money to someone with small deposit savings.
LMI applies to those first-time borrowers with less than 20% deposit of the sale price.
"Although, there are many exceptions to this rule. There are many high-density locations that are exceptions. They're located in the inner-city suburbs, and often commercial properties. Some self-managed super fund investment loans that will need at least a 30% deposit," he says.
This one-off LMI payment fee depends on the amount of money borrowed, Tindall explains. "When the amount of money you want to borrow goes higher, so does the LMI and that's where people come undone. At a 95% level for a family house, LMI an add up to 5% which is a significant chunk," he says.
"That's not always a bad thing though. This often means that a person has got the property they wanted or avoided missing out on the one they love.
"Many clients who have decided to get the home they wanted to know they needed to pay it. They have since seen their property's value rise by over 20% in some cases. It's, that's not great news if you missed out, but good for those people.
The LMI cost is something added onto the loan. It doesn't tend to hurt right now as it's built into the loan repayments. You then have 30 years to get it paid off," Tindall says.
Looking at a $500,000 loan with a 5% deposit, Tindall estimates the LMI would be about $17,000. That's for residential property buyers.
"But different lenders will negotiate different LMI premiums or costs. So that can be worthwhile shopping around. As a mortgage broker this is something I can help with," Tindall says.
So the big question… Should a first-home buyer save for a bigger deposit before they get started?
Real estate agent and buyers agent Daniel Baxter from the First Home Buyer Buddy had this to say. 'Easier said than done, and in today's fast-changing markets. Buyers waiting a little longer to save more money to avoid paying that LMI, might miss the boat. Mean the homes in your price range have gone up in value. Often by more than the initial cost of the lender mortgage insurance.
That means there has been no point the first home buyer delaying buying because of the LMI. They are now worse off. Although, with cooling markets in many cities this should not be such a big issue in 2018.
Broker and Director of Port Finance Group Anthony McDonald relay 'you want to factor in those property increases'. Especially when you're making your decision about how much to borrow and when you should do that.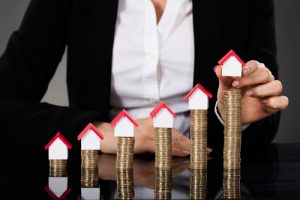 "A better opportunity is for the customer to go into a property and pay that insurance to get into the home. Knowing that if they waited to save that money to avoid the LMI, the property market may have gone up. It could have moved another 5-10% which means they'd actually be worse off" he says.
What are some of the hidden costs buyers pay when purchasing their first home?
This all depends on which state in Australia you're buying in. The price of the property, first home owner grants and concessions can reduce many of the added costs.
In Victoria, there is no stamp duty payable on any property purchased up to the value of $600,000. Then there is a sliding scale of concessions payable on properties that are between $600,000 and $750,000. That can provide some relief for first-timers.
For homes that are worth $750,000 or more, you can expect to pay extra duties of around 5% of the whole property price. That works out to be $40,000 on a $750,000 value home. Those extra costs will go onto your total loan. That will also increase the amount you need to borrow, as well as how much deposit you need to save up.
McDonald also says there are also lots of other smaller fees to look out for. Things like solicitors or conveyancing and title transfers etc. "These could add up to an extra $2500 for a first home buyer," he says.
So back to that question… How much deposit do I need for my first home?
As you can see there are lots of other costs you need to factor in.
Note that different banks have different lending requirements they work under.
Understand, each bank has its own set of rules and standards. This is what they use to work out how they loan money to first home buyers.
McDonald goes on to say that your personal financial situation is very important. This will always determine how flexible lenders will be and if they want your business.
"The more you can give the bank, the better you'll be, that's because that means you'll pay less interest to them. But like most things it does come down to individual circumstances and what you need.

Things that matter to a bank are:
– How good and stable your income is.
– How long have you been working or employed in your current job?
– Have you got a good pay rise which means you can now afford to make higher repayments than you could before
"The interest rates and fees are always what they are at that given time. It's always pretty competitive though. It's a matter of working through the options to get to the loan that suits your needs. That's where a mortgage broker comes in very handy."
Understanding your deposit options and how much you need is always a critical first step. This what all first home buyers need to go through. When that's organised by a great mortgage broker then it's into the next exciting stage of the process. That's finding and buying your perfect first home.
When you're at this level you will have a whole new range of headaches you'll need to navigate your way through. But not to worry, we've got you covered when it comes to this. Be sure to visit the First Home Buyer Buddy. You'll get guided from the start of having your finance approved, all the way to signing contracts. We'll also teach you about everything you'll face in the middle when it gets time to offers.
So back to that search… How much deposit will I need? Hopefully, this information gives you some insights into what you need to know about. But for further information here is some more home loan advice.