There were so many takeaways from our Melbourne First Home Buyers Masterclass, so we just had to write them all down, get them out of our head, and share them with you.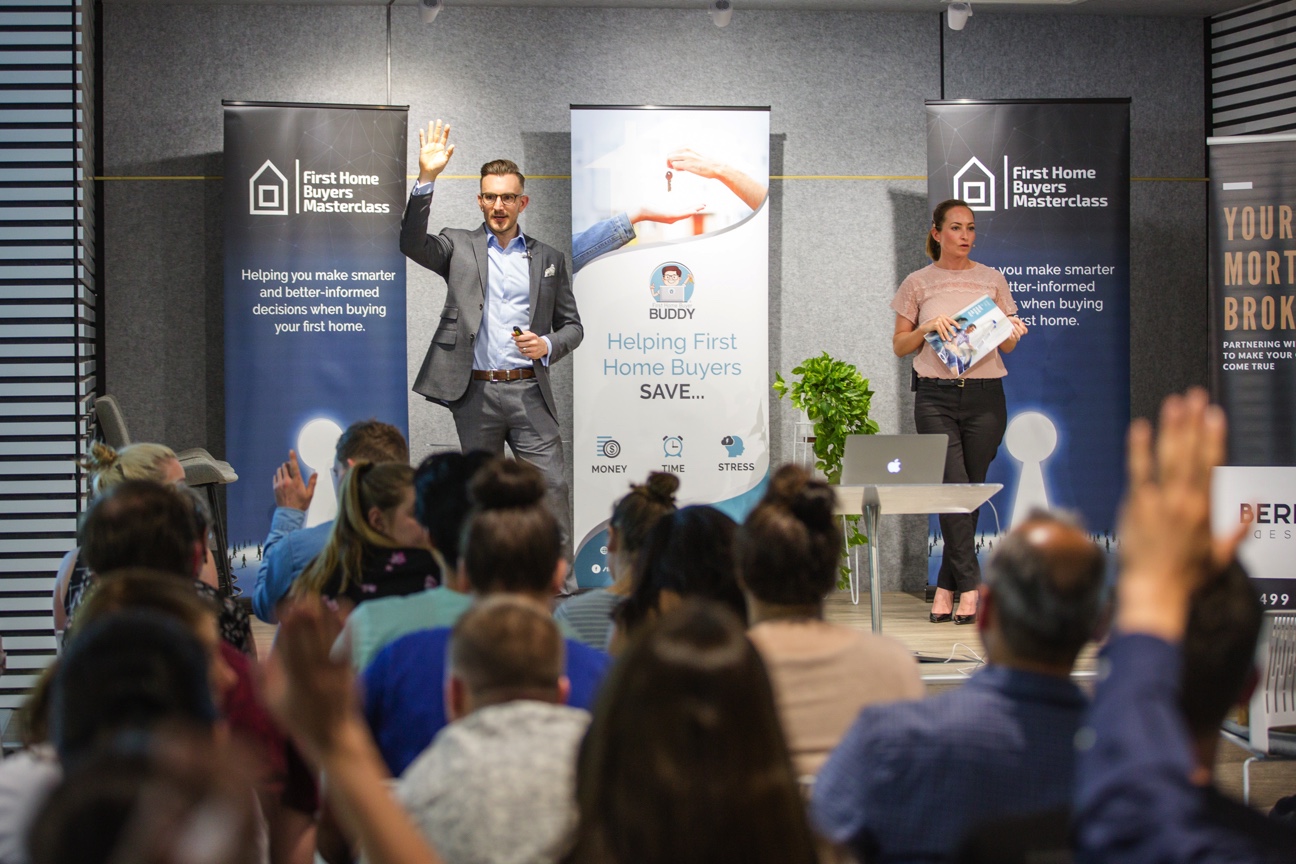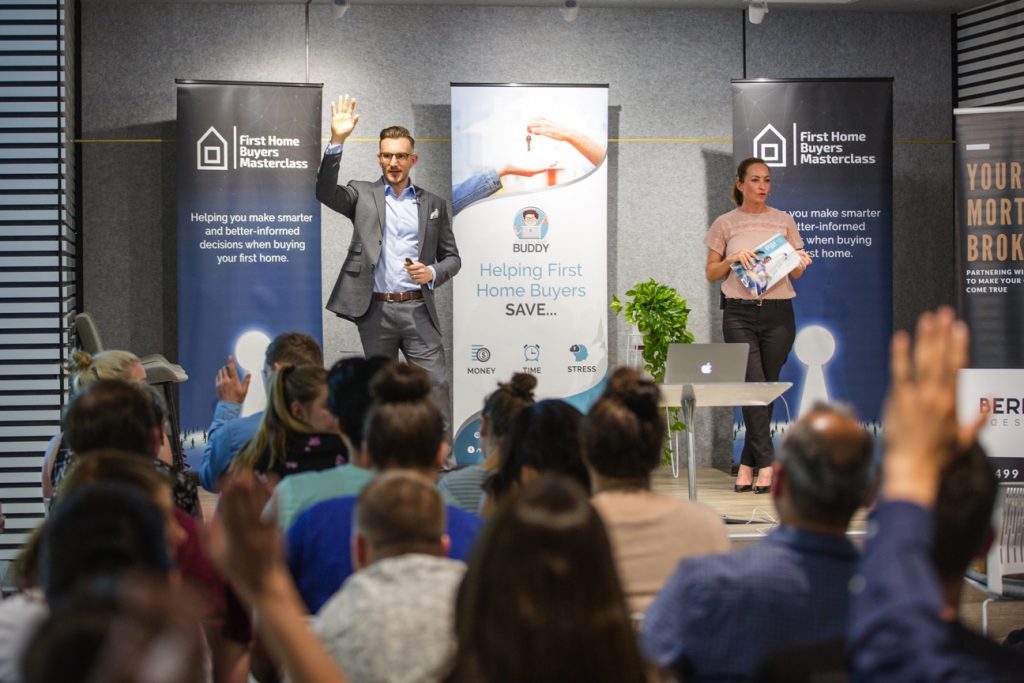 Our First Home Buyers Masterclass kicked off with our first expert speaker…
Bernard Desmond, Award-Winning Loan Market Mortgage Broker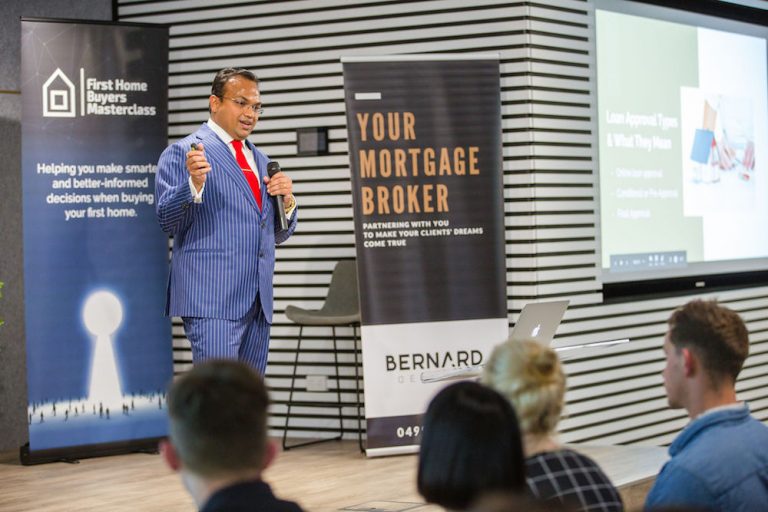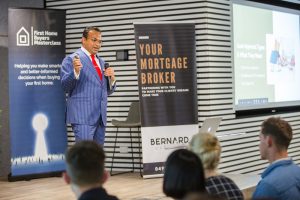 A-Z of Home Loans & Finance
Bernard shared some amazing insights and debunked a few of the more common myths about buying your first home. That included home loans, deposit sizes, tighter lending by banks and the crackdown on loan serviceability. Here are the main topics Bernard addressed.
How Banks and Lenders Calculate How Much You Can Borrow
Net income (after tax) – Your salary or wages

Living expenses  – Basic living expenses + Discretionary expenses

Existing loans – e.g personal loans, car finance

Credit cards – Both current debt and also limits

Interest rate buffers – To allow for interest rate rises in the future (e.g your loan may be 3.79% but the buffer for your loan might be based on 7.5% for servicing calculations)
Loan Approval Types and What They Mean
Online Approval – A system generated response can be received quickly, however, there are a lot of conditions associated with your approval – should not be relied upon
Conditional/Pre-approval – Full assessment – this is when the credit department of the bank or lender will review all of your documents along with a credit history check. Approval can take days (sometimes weeks) to receive, however, there are far fewer conditions associated with full assessment pre-approval, generally, it can just be a valuation coming in favourably.
Full approval/Unconditional Approval – this is when all conditions stipulated by the bank have been met (ie. valuation on property or mortgage insurance etc) and you're given loan documents to sign and return.    
3 Tips to Get Approved For Your Home Loan
Review your current finances

Consider what sort of home loan you are applying for

Complete your pre-approval application with your mortgage broker to ensure you supply all the required information correctly.
Great Options to Get into Your First Home, Even Without a 20% Deposit
LMI – Lenders Mortgage Insurance (LMI) – is generally charged to all borrowers with a Loan to Value Ratio (LVR) over 80%. This is also known as having less than 20% deposit or equity. Remember, LMI protects the lender (bank), not the borrower.

Guarantor Loans/Family Pledge – A guarantor uses their property to provide security for someone else's mortgage. They guarantee part or all of your loan and you get to borrow (and repay) the money. If you can't repay the money your lender will recover the debt from your guarantor's property. This is why it can be a risky option for the guarantor, however, over 1 in 3 parents are still willing to assume this risk to help their children get into their first home.
Borrow up to 95% – A 95% home loan is a low deposit home loan that enables you to borrow up to 95% of the total value of the property. This means borrowers are only required to have a 5% deposit saved for their home loan.
Simple Ways to Get Yourself the Best Interest Rate
Improve your credit score

Have a solid record of employment

The higher your deposit the better (20% is optimal to the banks)

Consistent savings into your bank account

Close all credit cards you do not 100% need and do not use Afterpay or Zip pay etc as this puts a mark on your credit
Hidden Fees to Be Aware Of
LMI

Stamp Duty (sliding scale – varies from State to State)

Valuation fees (if required)

Loan application fees
Government Grants Available
Vary from State to State – the stats mentioned below are for Victoria, however, you can find information for each States Government Grants and exemptions here.
First Home Owner Grants – When you buy or build your first new home of $10,000 and $20,000 for regional areas (up to the value of $750,000).
Stamp duty exemptions – For properties purchased by first home buyers up to $600k and sliding scale up to $750k.
For more info on Government Grants and exemptions for Victoria property purchases, visit – https://www.sro.vic.gov.au/first-home-owner
What's The Difference Between Banks – Brokers – Online Sites?
Banks – Limited options, can only promote their own products (loans) that may not necessarily be the best option for you – or they may not have a loan to suit you at all.
Online Websites – Different lender options. You never know where or who your enquiry will go to. You often don't get to choose who you work with. Less personal service than using Banks or Brokers
Mortgage Broker – Different lender options (some mortgage brokers like Loan market have access to 28 different lenders and thousands of different products). Plus a mortgage broker works one on one with you helping you find the right loan option to suit your situation and is there helping you throughout the entire process, from application to settlement.
TIPS From Bernard
Limit the number of credit/store cards you have (even if you don't owe any money on them)

Have pre-approval in place if you're wanting to submit an offer on a property and know your budget and what you're comfortable repaying.

Remember there are extremely competitive interest rates from some great non-bank lenders too (some you may not even have heard of).

Chat with a mortgage broker early so you know how much deposit you will need for the size of the loan you want to borrow or if you need to make any changes to your spending habits before applying for a home loan.

Have all your paperwork together – Payslips and bank statements etc as this will make the application process easier and faster for you
Peter Ferguson – Senior Real Estate Agent – O'Brien Narre Warren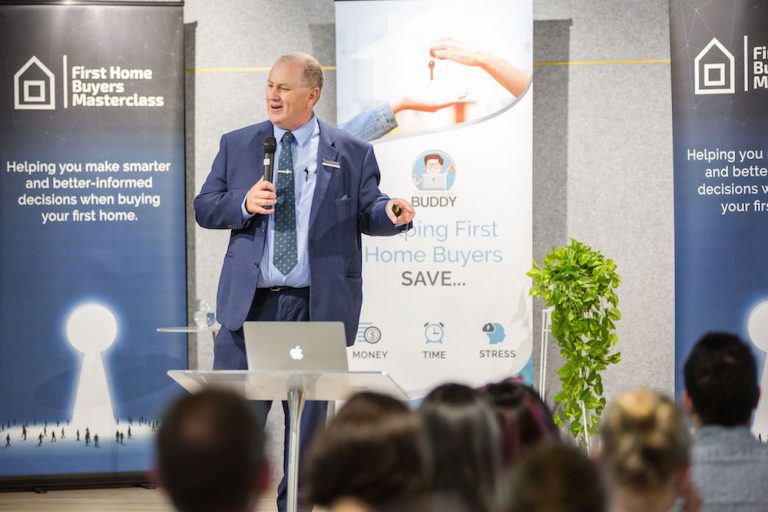 Melbourne Property Update
Peter shared some great information about the Melbourne property market. Popular suburbs for first home buyers, where you can get a lot of value for your money and where he sees the market heading over the next 12 months.
Great time for first-time buyers to enter the market. It's actually the best time in the last 8 years. Melbourne market is not heading upwards and it might even still drop back slightly (especially for units).

From a selling agents perspective, if you're going to submit an offer on a property you want to purchase, show them you have pre-approval (which goes back to what Bernard said). They will take this offer more seriously and encourage the vendor to do so as well.  

Land will always go up in value, so give consideration to pre-loved/established homes when searching for your first property, even if it needs a little TLC as it may prove to be a better investment in the future.

Popular first home buyer suburbs with value to be had –  Narre Warren (great for relatively new townhouses), Parkdale (has a lot of affordable apartments), Hampton Park (great for established houses), Armstrong Creek (a lot of house and land package options)
Lisa Baxter & Daniel Baxter – Real Estate Agents and Co-creators of the First Home Buyer Buddy
Real Estate Tips, Techniques & Strategies For Buying Your First Home
10 steps to buying your first home
We highly recommend following the 10 steps in order to avoid stress and the most common and costly first home buyer mistakes. However, the problem is people don't follow them in the correct order. They often get carried away with the idea of buying a home and start at Step 3, searching online or even Step 4, going to open for inspections (because maybe you've got spare time on a Saturday). Before you know it they're submitting offers even though they haven't even spoken with a mortgage broker to see if…
They can get a home loan or

How much they can borrow.
That's why it's crucial to follow each step in order. At the very minimum at least the first 5 Steps!
Know your budget, one you're comfortable with,

speak to a Mortgage Broker

and get your finance approved.

Decide on your ideal property.

Make sure you know the type of property you want and be aware of the pros and cons of each. You have a lot of options so you want to make sure you choose the ones that are best for you and your situation. Think about established properties (houses and apartments), Brand new properties (houses or apartments), Home and land packages and even off-the-plan developments.

If you know exactly what you want and need from your first home, it will make the next steps of

searching

Inspecting

and

Valuing

a property so much easier.
And once you've taken care of these first 5 steps, you're in a much stronger position to then tackle the next 5
Bidding at auction or

Submitting your offer and

Negotiating … AND 

then the last 2 steps of

Contracts & deposits, + 

Settlements should happen without the stress that most first home buyers go through.
Following the 10 steps, you see in the attached image will help set you up for a successful and a stress-free purchase. It will also help you avoid some of the…
Most Common & Costly Mistakes First Home Buyers Make
Buying with their heart instead of the head (emotional purchases are very common)

Offering too much (because they haven't done their research and don't know the true market value of a property)

Giving away too much information (Telling an agent more than they should, and having it used against them later in negotiations)

Exceeding their budget (especially when bidding at Auction without a solid strategy)

Buying the wrong property (because they've failed to identify what they really need and want from a property – a very costly mistake)
Professionals You Should Have In Your Corner When Buying Your First Home (and how much their services cost)
Mortgage Brokers/Banks – Such as Bernard Desmond can give you access to a number of different lenders without you having to do all the groundwork yourself. They'll also assist you with the entire loan application from start to finish – Cost – Free service
Conveyancers/Solicitors – Such as Victorian Property Settlements will guide and advise you when it comes to reviewing and signing contracts. They're there to look out for you and your best interests and can assist with adding or removing certain clauses to better protect you (ie. extended finance terms or building and pest inspections etc). Conveyancers and Solicitors will perform the same role for you, however, Solicitors tend to be more expensive. Cost –  $900-$1500
Strata Reports

– Your conveyancer/solicitor will advise you on whether or not you need one, however, if you're buying a property such as a unit or townhouse, you'll more than likely require a strata report to ensure there is enough money in the sinking fund, that the building has current insurances and that there are no legal proceedings against the body corporate.

Cost – $250-$300
Building/Pest Inspections

– These are advisable if purchasing an established property or even a brand new property. It's a way to ensure you're getting what you think you're getting and what you're paying for. 

Paul Byres from JLL going through the pros and cons of building/pest reports

Make sure you used a reputable company like JLL Building and Pest Inspections, as this is an unregulated industry with a lot of 'cowboys'. Cost – $400-$500

Independent Valuations – Can help to determine the value of a property if you're unsure of what you should pay. These can range from 'desktop valuations' which JLL Valuations can provide and are as affordable as $160

or in person valuations, which can be a few hundred dollars.  

Loan Protection Insurance

– Helps protect you so you can still pay your mortgage if you lose your job or fall ill and can't make your repayments.

Cost – ALI Group can provide loan protection insurance for as little as $25pw for couples.  
Tip: Choose and organise your preferred professionals long before you start searching for your first home.
4 Tips When Valuing a Property  
Compare apples with apples

– Is it the same property type, size, number of bedrooms, in a comparable location, with similar fittings/fixtures

Uniqueness and desirability

– A 4 bedroom architecturally designed home or character filled heritage property can't be compared to a standard 20-year-old 4 bedroom home in the suburbs.

Supply and demand will affect the sale price of a property

– If buyers have a lot of choices, chances are they won't overpay for a property, however, if there are more people looking to buy than properties available for sale, you may have to pay more money because you're competing with more people.

Look at previous sale prices within the last 6 months

as market conditions and prices can change during that time.
Property Searching Tips
Know your budget

– This will save you hours of time by avoiding looking at properties that don't fit within your spending limit

Where and how to search

– Use the major real estate portals

Realestate.com.au

&

Domain.com.au

& always refine your searches – ie property type, price range, location

Set up property alerts

– Create an account with the property websites and have them send you alerts when any property matches your checklist.

Start your research early

– This means you'll have a very good understanding of property values and market conditions before you're ready to buy.
First Home Buyers Masterclass Partner Information 
We had some amazing sponsors and partners at the Melbourne First Home Buyers Masterclass, so we've added their details below. You can check out their sites, see what they do and make contact with them when you're ready – be sure to mention the First Home Buyers Masterclass when you speak to them so you can access our exclusive deals with them.
Bernard Desmond – Award-Winning Loan Market Mortgage Broker – helping you find and apply for the home loan that best suits you and your individual needs 
ALI Group– Loan protection Insurance – peace of mind to make sure you can always pay your mortgage
JLL – Building and pest inspections, so you don't buy another person's headache + Property valuations so you don't overpay.
iBuildNew – Have access to wholesale home and land packages to help save you thousands of dollars.
Victorian Property Settlements – Conveyancers guiding and protecting you throughout the entire contract and settlement process.
Harp Interiors – Interior decoration made easy with E-Design. Helping you make a house a home.