Why is a first home buyers checklist so important in 2018? Well, buying your first home is an exciting but daunting prospect for most first-timers. The easiest way to turn your dream into a reality is to approach the buying of your home step by step. We've put together a simple first home buyers checklist to turn you into a property owner in 2018.
First Home Buyers Checklist
Step 1. Researching the market
Researching and understanding the real estate market trends in Australia is a critical first step. Start by writing a shortlist of your property wants v's needs. Start with the location, how many bedrooms, aspect or direction and the type of property.
Then things start to get exciting, we begin to look online. Once you find some properties you like, attend inspections and talk to local real estate agents. Get to know them and how they work and try to find out:
– Sold prices of recent properties in the areas where you want to buy.
– What makes some properties sell for higher and lower than average prices.
– Latest market trends in 2018– are prices increasing or decreasing at the moment?
Step 2. Understand how much you can borrow from the bank
Once you have a clear picture of the market, it's time to work out how much you can afford to borrow from the bank. Online-calculators are a great starting point, but not accurate. You should always make time to find out your borrowing potential. Do this with your bank or a mortgage broker in your local area.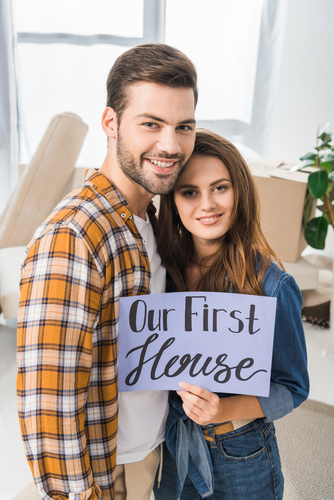 Step 3. Calculate your repayments and see if that works for you
Part of knowing how much to borrow is factoring in your loan repayments. It's worth having this discussion with your mortgage broker as they can help work this out. You need to budget not just for your loan repayments, but all the other regular costs you'll need to cover. Things like groceries to phone bills, gym memberships and long-term savings goals.
Step 4. Factor in other upfront costs you'll need to pay
Many first home buyers make the mistake of only thinking about their deposit. Just to get a rude shock and find out about the other upfront costs involved in buying a home.
They often forget to factor in:
– Stamp duty – You can use a stamp-duty calculator to work out the total for your property. (Recent changes in stamp duty in VIC and NSW means you could be exempt from paying any stamp duty as a first home buyer.)
– Other government fees and changes
– Legal/conveyancing fees.
– Pest and building inspections.
– Lenders mortgage insurance.
– Money for any essential repairs.
– Moving costs.
Step 5. Check to see if you are eligible the first home owner grant
The Australian government is offering some grants to people buying property for the first time. This is available through the first home owner grant (FHOG). The challenge for first home buyers is the amount available. Also the rules for certain things like the maximum purchase price and type of property. These differ from state to state and tend to change most years.
The easiest way to find out whether you're eligible is talking with your mortgage broker or lender. They can help you fill out and submit your application for the (FHOG). You can also find out most of the info you need for your state and territory by visiting firsthome.gov.au.

Step 6. Prepare for auctions and private sales as you'll come across both
Due to the hot property market in 2015, 2016, 2017 auctions were popular. They have become the norm to sell in many locations across Australia. This means it's worth taking the time to attend a few auctions and see how the process plays out. That's before you bid on a home you love. In the first home buyer buddy course, we have a section dedicated to Auctions. This covers auction best practices, bidding techniques and also mistakes you need to avoid. But, the most important factor is always knowing your budget and sticking to it.
Private treaty sales, also known as private sales, will usually involve negotiating with a real estate agent. This is where many first home buyers get found out. When negotiating with an agent, you're going up against an industry PRO. This why it's critical to have a little help like the first home buyer buddy guiding you. That way you don't end up paying more than you should for property and regretting it later on.
In closing…
Regardless of the budget, you're getting to work with or the type of property you're looking for. Being prepared and confident is critical to ensuring you buy the right home for the right price. This first home buyers checklist will give you a great start when it comes to buying your first home.
For more information, be sure to check-out the inclusions in the first home buyer buddy. Learn how you can save money, time and stress when buying your first home.